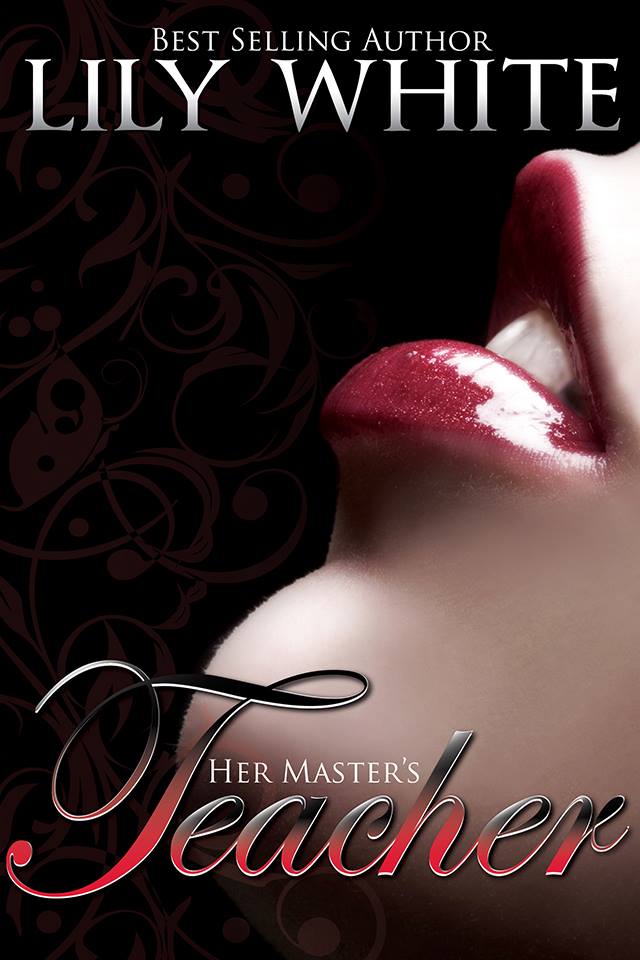 She caught my attention the first day I was seated in her class.
Her dark red hair fell in waves down her back and her alabaster skin appeared to sparkle under the lights of the lecture hall.
I'd admired her from a distance, never speaking or doing anything to draw attention to myself.
Each day that I spent watching her in this room, I noticed how her eyes would flick up to me. She was wary of me - frightened - and she had reason to be.
Allow me to introduce myself…
My name is Holland Strong and at 21 years old, I'm the youngest Master within a society of wealthy and influential men.
Claire Elliot is my psychology professor in college - that is, at least, until I make her my first courtesan.
She believes she knows everything about how the mind works…
…and I believe I can prove her wrong.
Disclaimer: This book is intended for mature audiences only (18+) due to language and sexual situations. This book contains explicit descriptions of violence.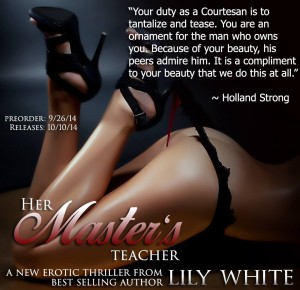 Lily White is a genius and Her Master's Teacher proved it to me. The story kept my attention and I hated to have to put it down to do something responsible like cook. But regardless I loved this story and read it again immediately after it ended just to ensure I didn't miss something. This is definitely a book that earned it 5 stars and more.
Holland kidnaps his college psychology professor to fulfill an order for tall, thin, red haired, blue eyed woman to be train as a courtesan, then given to the man that placed the order. Holland had the perfect woman in mind. His psychology professor Claire Elliot. He had been attracted to her the first time he saw her in class and Claire had noticed him too. He was attractive but she felt there was just something about him. Besides that he was her student and she could not have a relationship with him.
Holland is in training to be a Master at the assistance of his stepfather Gail Carlisle. Oh, you've heard that name before? Yes, his name came up in Her Master's Courtesan, he was a sadistic son of a bitch. Mr. Carlisle had insisted that Aiden Oliver, our favorite Master, train his stepson.
So Claire's been successfully kidnapped but on her first night being held, Master Aiden realizes that she will not be so easy to break. But he still gives his Holland the responsibility to be Claire's Master and prepare her for the life of service that will eventually come. Claire would be the first Courtesan that Holland trains, for Holland failure is not an opt.
As I read the book I wondered how the title related to the theme of the book. At first I thought Her Master's Teacher could referred to the relationship between Claire, Holland and Aiden. That would be easist conclusion, and probably the correct one. But as I continued to read I realized that there was a lesson to be learned by all the main players in this story.
Holland was attempting to train Claire without the savage, brutal methods that Aiden used. Holland wanted to use kindness to encourage her to behave, but Aiden insists that his method to break the mind guarantees better results. And he is right. When Aiden finally succeeds in breaking Claire I am in tears.
But things are never as it seem. Happiness, in spite of all the hopelessness does come, just not in a way that I imagined it would. And for that reason alone it was easy to give Her Master's Teacher 5 stars.
If you've read the book please leave a comment and let me know what you think.


Lily White is a dark writer who likes to dabble on the taboo side of eroticism. Most of the time she can be found wandering around aimlessly while her mind is stuck in some twisted power play between two characters in her head. You may recognize her in public by the confused expression, random mumbling, and occasional giggle while thinking up a scene. Lily's favorite things in life are reading, thinking about reading, buying books for reading....and writing. Her other secret pleasure is meeting with her plot editor in public to discuss her books and watching the shocked expressions of the people around her that don't realize she's talking about a book. When Lily is not reading, writing, wandering or freaking out innocent bystanders, she's sleeping.